Celebrating Pride All Year Long
A sea of rainbows and colourful floats reigns the streets. The parades begin their march. Love, fun and glitter are in the air. These are just a few of the many wonderful things associated with Pride. But why limit Pride to just one month or even one season?
While Pride is a celebration of love and a commemoration of the LGBTQIA2S+ communities, it's a reminder that the fight for social justice, equal rights, inclusion and belonging has no end date. After all, discrimination against the LGBTQIA2S+ communities isn't a moment in time, but an ongoing, centuries-old campaign.
At Raymond James, we know that representation matters, and we'll continue to support the rights of all marginalized communities. This year, our National Inclusion Council is launching "Celebrating Pride around the World" series of articles. Over the course of several weeks, we'll celebrate and honour the LGBTQIA2S+ communities and their pursuit of equal justice under the law and equal rights.
The series of articles will highlight the journey to Pride in several countries. From Canada to Japan, we'll celebrate the impact the LGBTQIA2S+ communities have made—all while reminding ourselves that we can do better in Canada and beyond. Our main goal is to not only empower LGBTQIA2S+ communities who persevered in the face of threats and violence, but we will also give voice to those still unable to reclaim their rights and freedoms.
Today, we feature Canada and the trailblazers who lived, struggled and fought so hard for equal rights. As always, we look back on all they've accomplished with pride and love.
Canada's Journey to Pride
Did you know that in 2005, Bill C-38 became federal law, making Canada the fourth country in the world to allow samesex marriage? But the path to reach that milestone was fraught with hurdles and required the utmost determination.
In fact, Canada's gay rights landscape is full of turning points that eventually led to the celebration of LGBTQIA2S+ communities today.
Before same-sex marriage became legal in Canada, before our first gay rights rally and before homosexuality was decriminalized in this country, there was Jim Egan. A pioneering gay activist, Toronto's Jim Egan publicly challenged a culture scarred by homophobia in the late 1940s.
About 40 years later, Jim Egan sued the Canadian government for the right to claim spousal benefits for his partner Jack Nesbit. Their case prompted the Supreme Court to agree that sexual orientation is a protected ground under the Charter of Rights and Freedoms—a landmark decision that paved the way for other milestone wins.
One tipping point in Canada's LGBTQIA2S+ rights movement is the events of January 5, 1974, which ushered in significant change and marked the start of a new, more assertive era in the country's LGBTQIA2S+ history. Four queer women Adrienne Potts, Pat Murphy, Sue Wells and Heather Elizabeth—dubbed "The Brunswick Four"—went to an amateur singing contest at Toronto's Brunswick Tavern.
They were ordered to leave after singing a lesbian-themed song, but they refused and ended up being assaulted and arrested by the police. The incident outraged the lesbian and gay community and led to the resolve to fight against discrimination and police harassment.
Here's a look at some of the other significant milestones that shaped Canada's rich LGBTQIA2S+ history.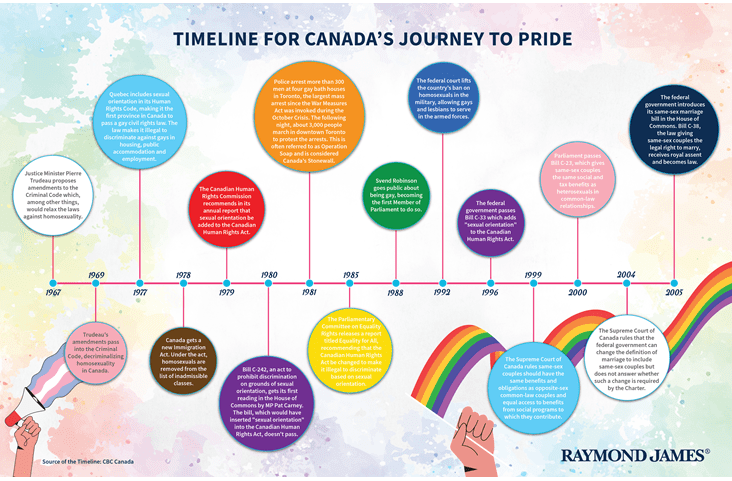 Don't put away your rainbow flag or Pride t-shirt just yet. Stay tuned for our next article where we feature Iceland and discuss how far LGBTQ+ rights have come in that island nation.