In The Bleak Midwinter
Written by Paul Siluch
December 21st, 2022
It is the winter solstice today, the longest night of the year and the shortest day. Few likely have noticed, as North America – from Houston to Victoria – is in the grip of frigid arctic weather.
Indeed, it seems like the entire year of 2022 has been in a similar icy grip, not unlike the classic Christmas carol "In the Bleak Midwinter" by Christina Rossetti:
In the bleak midwinter
Frosty wind made moan,
Earth stood hard as iron,
Water like a stone;
Snow had fallen, snow on snow, Snow on snow
In the bleak midwinter
2022 had more than its share of misfortunes:
War in Ukraine
Oil prices as high as US $120 per barrel, and gasoline jumping with it
Inflation soaring, taking food and other prices higher
Interest rates the highest in decades
Stocks and home prices down
Taxes up
Many of the problems this year can be traced back to our reactions to the Covid-19 pandemic, when we flooded the world with money and forced interest rates below zero.
At the peak, there were $18 trillion worth of bonds trading with negative interest rates. This meant you paid interest for the pleasure of owning a bond!
It may have been the most irrational thing humanity has ever done to its finances in all of history.
If you are feeling depressed about all the news, you are not alone. The University of Michigan tracks consumer sentiment, and we are now at lows not seen since 1980.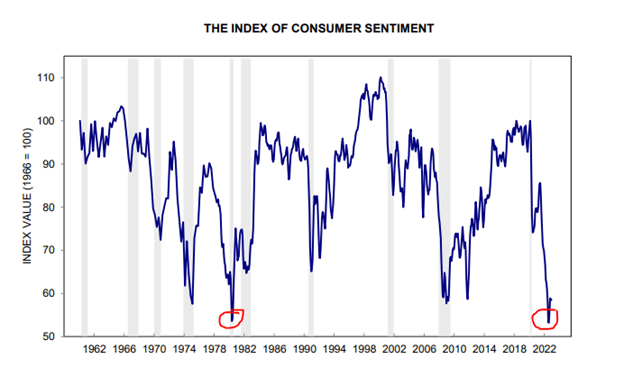 University of Michigan
Peter Mazzoni, one of my partners, suggested I write about what could go right in 2023. It's hard, with all the black clouds overhead, but here goes:
The crowd is often wrong. Look at the chart above more closely. The lows in sentiment usually occur at the

end

of recessions (the gray areas), not at the beginning. Most analysts were wildly bullish in December of last year. Today, they are almost uniformly pessimistic. Again, the crowd is often wrong.
Despite what central banks are saying, the bond market is the true weathervane. Long-term bond rates have been falling gradually for months, suggesting a peak in interest rates – and an eventual decline – may be closer than we think. The big experiment with negative yielding bonds is now over. From the peak of $18 trillion, there are now just $686 billion left and shrinking (source: Peter Boockvar). Normalcy is good.
Inflation is also declining. Here in Victoria, gasoline prices are down over 30% from their peak. Food prices are also beginning to improve.
While the Ukraine war rages on, it may be grinding to either a stalemate or a retreat by Russia. Either way, its impact on oil prices is now negligible.
There's an old saying that "there's always a bull market somewhere."
Today, there is a bull market in interest rates for savers – you can get 5% on a 1-year bank certificate versus just 0.5% a year ago.
Commodity companies – many of which reside in Canada – are starting to rise after a decade of going nowhere. Most pension funds own almost none. I think this will change.
Energy is undergoing a huge transition, and it may be led by a renaissance in nuclear energy. Could we see small reactors the size of semi-trailers powering neighbourhoods in the future? I will bet we do.
As of 1:48 pm PST (4:48 pm EST) today, we enter winter. But in the many ways described above, we have been in winter all year.
Our days now begin to get longer and our sunshine a little stronger. For me, it is the most hopeful day of the year.
On that note, I and the Dividend value team wish you a very Merry Christmas and a Happy New Year. We remain hopeful for the year ahead, while always staying as conservative and realistic as possible.
Remember…there's always a bull market somewhere.
Paul Siluch
Lisa Hill
Peter Mazzoni
Sharon Mitchell
Dimitri Karatsikis
Lincoln Jiang
Joanne Davidson
Hailey Lanctot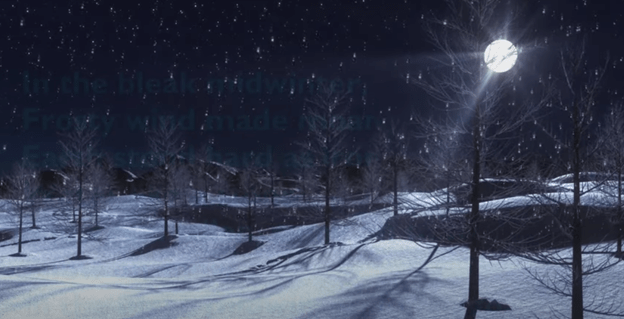 In The Bleak Midwinter carol: